Shaken and stirred: letters reveal Ian Fleming's tempestuous first love
In letters from early 1930s to Edith Morpurgo, Fleming writes: 'I would like to hurt you because you have earned it'
It might sound more Fifty Shades of Grey than 007, but a series of letters by a young 

Ian Fleming

 to his Austrian lover see the man who would go on to create James Bond detailing how he would like "to hurt you because you have earned it and in order to tame you like a little wild animal".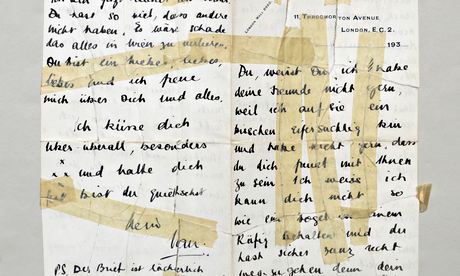 One of Ian Fleming's letters which was torn into pieces by its recipient, before being pieced back together with tape.
Written in the early 1930s by Fleming to Edith Morpurgo, the daughter of a Salzburg businessman, the letters – in German – shine a light on the pair's tempestuous relationship: one of Fleming's missives has even been torn into pieces by its recipient, before being pieced back together with tape.

"I will say nothing more to you – only that I ---- you," writes Fleming in an undated letter from 11 Throgmorton Avenue, where he was working for the banker Cull & Co. "If I were to say 'love' you would only argue, and then I would have to whip you and you would cry and I don't want that. I only want for you to be happy. But I would also like to hurt you because you have earned it and in order to tame you like a little wild animal. So be careful, you."

Later, in the letter which has been ripped up, the author writes of how he doesn't like Morpurgo's friends "because I am a little jealous of them and don't like the fact that you look forward to being with them", adding: "I know I cannot keep you in a cage like a bird."

The collection of letters and photographs are to be auctioned at the New York antiquarian book fair next week by booksellers Peter Harrington, who are expecting they could fetch up to £47,500.

"[The letters] show romantic flirting, and a rather sadistic side to Fleming as well," said senior specialist Adam Douglas. "They were written so early in his career that he was of course not famous … so the chances of somebody keeping this kind of material are quite low … They're by an author well before he became an author, playing around with the things he would turn to gold."

The same letter in which Fleming talks of how he would like to hurt Morpurgo also reveals a more loving side to the relationship, with the author writing: "I'd like to sleep with you just once and do nothing to you, just wrap my arms around you and hold you tight and find you there when I wake up."

Fleming also includes two illustrations for Morpurgo: the first, inscribed with "Wo ich Dich küssen will" – "where I want to kiss you" – is of a pair of eyes and a pair of feet with kisses at the "implied mouth, breasts and vagina positions", says Peter Harrington in its catalogue. The second, titled "Ich will mit Dir" – "I want to ... with you", is of a door with a Do Not Disturb sign on it, with two pairs of shoes on each side.

Fleming's biographer Andrew Lycett said the author spent time in Austria in the late 1920s before studying at Geneva University, working at Reuters, and in 1933 joining the small London bank Cull & Co. He appears to have met Morpurgo in Austria in 1934, as he liked returning to the country, said Lycett.

The letters are not all dated, but those with dates place the relationship in 1934 and 1935, when Fleming would have been in his mid-20s.

Morpurgo, born four years after the author, in 1912, would go on to marry Julius Jakob David Essinger in 1939. The couple, and their two-year-old daughter, died in Auschwitz, said Peter Harrington.

The bookseller bought the collection at auction, and believes they were originally sold by a descendent of Morpurgo's family. "These letters show the trajectory of a passionate youthful romance, when Fleming was an unmarried man in his 20s," said Lycett.

Fleming's emotions are seen passing through the full range of an affair as the letters progress. Early on, he is filled with loving good humour, writing that "I only want to kiss you and say nothing. It makes no sense, but I send you the pieces – of my HEART!!!!", and teasing Morpurgo, whom he calls a "high class ninny".

Later, things take on a sourer note, with Fleming writing: "You, if you wanted to hurt me, you have done so and you can be glad that you have brought our friendship to a hideous end." He tells Morpurgo: "I have found myself feeling like a child in front of its malicious governess. At the end, I could do no right and everything was a personal injury to you."

The whereabouts of the letters Morpurgo, who would have been in her early 20s at the time, wrote to Fleming are not known, but her missives were clearly fiery in tone. At one point Fleming writes: "I have always called you Morpurgo and you live as Morpurgo in my reminiscences, and Morpurgo you will remain, swear as much as you like. So 'balls to you' (English swearword), respectively L.M.A.A [Leck mich am Arsch] (German swearword), and be content with that."

And later: "You cannot take away the moments that we had together with a handful of swearwords."

"It's a real whirlwind," said Douglas of the relationship. "Much more information about Fleming is coming into the public eye these days. I don't think the general public had any idea of what the character of the writer of James Bond was like. It's rather amazing how much like James Bond he is."

A recent drama about Fleming's life, with the author played by Dominic Cooper, shone a spotlight into the author's turbulent love life, highlighting his affairs with Muriel Wright and Ann O'Neill, whom he would go on to marry.
full article:
http://www.theguardian.com/books/2014/mar/26/letters-ian-fleming-first-love?CMP=twt_fd