Jane Austen fragment found: but what's behind it?
by Alison Flood
Scrap of paper, transcribing part of a sermon by her brother, shows imprint of other writing on its reverse, which scholars are investigating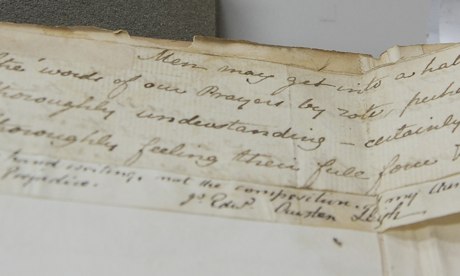 What's behind it? Fragment of Jane Austen's handwriting
A rare snippet of Jane Austen's handwriting, part of a sermon on men and prayer, is to be scrutinised by experts in an attempt to decipher the shadowy words which lie on its reverse.

The text, on a scrap of paper just five inches by one inch in size, is believed to have been copied by Austen from part of a sermon by her brother, the Reverend James Austen, in 1814. It was discovered in a first edition of The Memoirs of Jane Austen, a book written by her nephew James Edward Austen Leigh, attached to an 1870 letter from Austen Leigh to a friend. The book was recently purchased by the Jane Austen's House Museum at Chawton.

The snippet shows Austen writing that: "Men may get into a habit of repeating the words of our Prayers by rote, perhaps without thoroughly understanding – certainly without thoroughly feeling their full force & meaning," This was a subject she contemplated in her own novel Mansfield Park, which was also published in 1814.

"It has been stuck onto a slightly larger piece of paper, on which her nephew explains it is a piece of Jane Austen's writing, but that it's not her authorship," said conservator David Dorning from the books conservation department at West Dean College. "She used to regularly write out sermons for her brother."

A "shadow" of further handwriting can be seen on the reverse of the scrap, and Dorning and his fellow conservators at West Dean are now preparing to unstick and clean the paper to discover what Austen wrote on the other side.

"You can tell there is writing on the other side of it but you can't read it because it's stuck down," said Dorning. "It is probably stuck with something which will be soluble in water … It is not likely the ink will wash off, but we do need to be careful, so we are planning to carefully humidify it, rather than put it in a bowl of water."

He speculated that the reverse will show more of the same sermon. The snippet already visible, he said, "sounds like the sort of thing Jane Austen might have said about men, but it is text from her brother – maybe the whole Austen family felt the same way."

The book and the snippet will feature in an exhibition at Jane Austen's House Museum later this year to celebrate the bicentenary of Mansfield Park. "What especially intrigued us about this fragment is its apparent date, 1814, and the evidence that offers of the cross-currents between Austen's family life and her literary reflections on prayer in Chapter 34 of Mansfield Park, published the same year," said Mary Guyatt, curator at the museum.


full article:
http://www.theguardian.com/books/2014/feb/03/jane-austen-fragment-found-paper-brother?CMP=twt_gu#